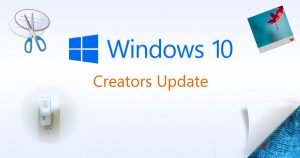 By now you've probably heard that the latest version of Windows 10, the Creators Update, was released to the masses on Tuesday, April 11, 2017.
This update is officially known as version 1703, which is supposed to represent 2017 March… And that explains why it was released in April 2017. Because, ya  know, confusing people with meaningless numbers is always a good thing.
But anyway, the Creators Update is a full "upgrade" to Windows 10, which means a 3GB+ download in most cases, followed by an "upgrade install" of Windows 10 itself.
So, is it satanic? Does it work? What's new? What about privacy concerns?
Read on!