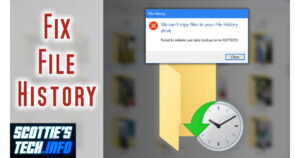 File History is pretty cool. It allows you to automatically and incrementally backup all your files.
That means smaller backup sizes, easy restore if your puter crashes, and it's literally 'set it and forget it'.
The trouble is that File History likes to crash – it just stops backup up your stuff.
There are tons of solutions out there, but this one is the ONLY one I have ever found to work.
It's a bit tedious, but who cares when it's free and easy to fix?!