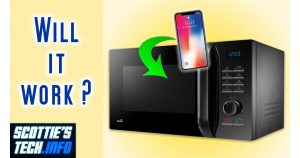 Ever since I made my Stylish Smartphone Faraday Box videos, countless people have told me to just use a microwave oven, or just use an empty potato chip bag.
Well, no… And yes! It depends.
The truth is that Faraday cages don't block signals – they attenuate (or weaken) them.
That means that depending on the situation – the phone itself, the signal strength, the microwave oven itself, and so on – it may or may not work.
I also demonstrate that my Stylish Smartphone Faraday Box Mark II has a serious amount of signal blocking power.
So if you want to be extra-sure, go Stylish!
Goodies in video:
MP3 Ring tone: Everything Is Awesome!!!
by Tegan and Sara feat. The Lonely Island
From the Album The Lego® Movie (Original Motion Picture Soundtrack)
© 2014 WaterTower Music / Warner Bros. Ent. / Village Roadshow / DC Comics

Is a microwave oven a good smartphone Faraday cage?