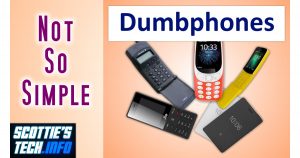 If you decide to ditch your smartphone, then you have to pick the right dumbphone.
"You must choose, but choose wisely."
There are many factors that come into play, like where you live and what wireless provider you're using.
But it gets way more complicated than that…
2G, 3G, or 4G? And then, will 2G be around much longer with the release of 5G? What about 3G networks? How long will 3G be sticking around?
And then we have 4G dumbphones: There aren't very many (at all), and they aren't as Google-free as we might hope. SIGH…
Watch for all the glorious details!
Like I say in the vid, if you know of any other available models, I'm all ears!
Mentioned in vid: