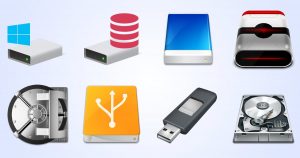 People love to customize their puters. You want a certain color, a certain background wallpaper, and some people go so far as to use a theme that will even change icons.
You may know about changing your removable drive icons, especially if you read my ancient article Autorun Fun: Customize or Repair Autoplay for an External Drive.
What you may not know is that the same simple technique can be used on fixed drives.
You can customize the icons for all of your drives – even internal hard drives – in just a few easy steps!
So, you open Explorer. You see something like this: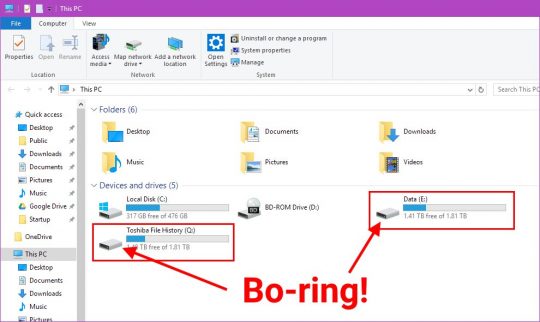 Note that my E: is a mechanical hard drive for storing data. Obviously, C: is the SSD where Windows is installed. And Q: is an external USB Toshiba hard drive that I use for File History data backups.
Trouble is, all those icons look the same. Visually, it's kind of boring. Naturally, I'll get used to clicking in a certain place when I want a certain drive, but wouldn't it be nifty if each drive had a custom icon?
First thing's first: Change the name of the drive
Okay, first we'll look at how to change the name of the drive to something other than Local Disk (X:).
This part's easy: Just right-click the drive whose name you want to change, and then click Properties.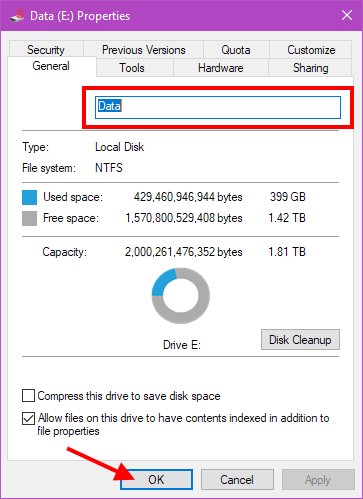 In the highlighted box, type whatever name you want. Then click OK. DONE!
Now, your drives all have meaningful names so you know what they are. But we still need to customize each drive's icon…
Change your drive's icon
The secret here is autorun.inf.
All you do is create a text file called autorun.inf, which contains something like this:

[Autorun]
Icon=favicon.ico

You plop that file in the root directory of your drive, along with the file favicon.ico (see below for a download link so you don't even have to create this file yourself).
Note: For removable drives, you'll probably need to edit the existing autorun.inf file!
It turns out that this trick is not just for removable drives like external hard drives or USB sticks. It also works for internal hard drives!
First, you're going to need to make a custom icon.
The easiest way to do this is to find an icon with a transparent background on Google Images. Just search for something like: vault transparent PNG
Download the one you want to use, and make sure it's at least 256 x 256 pixels (most are).
Then you're going to need to visit this site: ICO Converter
You'll see this: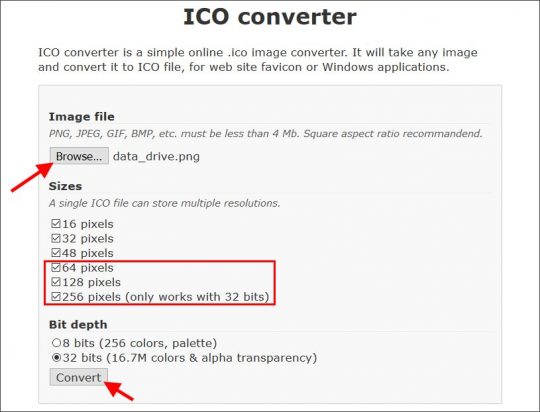 Click the Browse button, and select the icon you downloaded.
Next, be sure to click the 64 pixels, 128 pixels, and 256 pixels options. 32 bits should be selected by default. Then just click the Convert button!
ICO Converter will generate a .ICO file from your image, and include all the different resolutions for the icon you chose. That way, your icon will look snazzy in Windows Explorer whether you're using Detail view, Tile view, or Extra Large view.
Now, copy both the autorun.inf file and the downloaded favicon.ico file to the root directory of the drive whose icon you want to change.
Optional: If you don't want to see these 2 files all the time on your drive, you can set them both to read-only and hidden so that they "disappear".
Just right-click each file on your drive, and click Properties.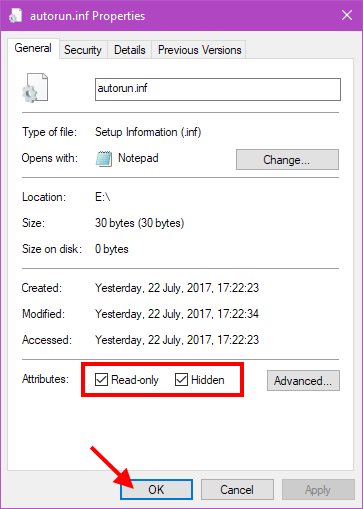 Tick the checkboxes Read-only and Hidden, and then click OK.
The icons will disappear from view, or they will look "ghostly" if you have Show hidden files and folders enabled in the Explorer options.
The final step is to either:
Reboot your puter if you've changed the icon for an internal hard drive
Unplug and replug the drive if you've changed the icon for a removable drive
That's it!
Now you'll see something like this: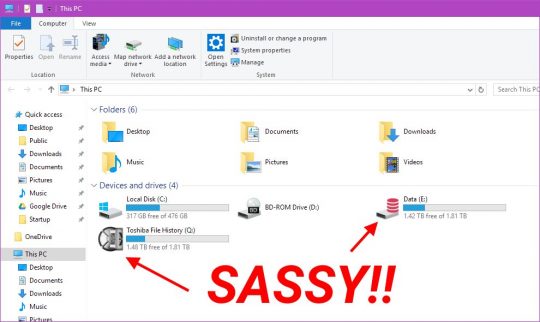 If you change the View settings to Extra large icons, you'll see this: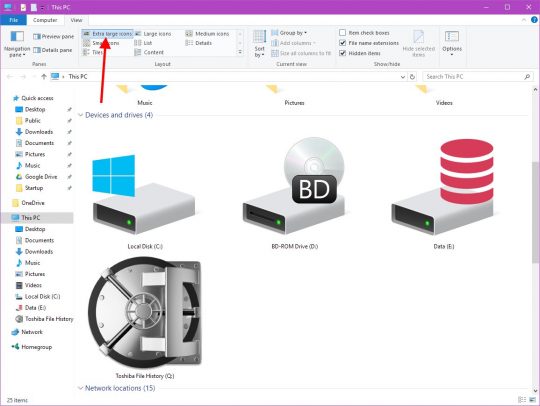 That's better: Now each drive has a custom name and a custom icon. Ta-DA!
To make things even easier, here are a few files you can download directly from my site (right-click and do Save Link As… for the INF and ICO files):
autorun.inf – file pointing to favicon.ico (don't forget to change this if you use a different ICO file name)
data_drive.ico – the icon in the above image for Data (E:)
vault.ico – the icon in the above image for Toshiba File History (Q:)
Win10 drive icon template – a Paint.net file I created to help you make your own Windows-type custom drive icon
So there you have it: customize the name and icon for each of your drives, whether they're removable or not!