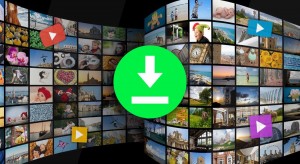 Everybody watches videos online. I mean, who hasn't heard of YouTube, right?
If you have a "less good" internet connection, or if you just want to be able to watch some vids offline when it's more convenient, it's very handy to be able to download videos from various web sites.
Well, not all of us have 200Mbit FTTH (fiber to the home)…
There are a few different ways to grab online videos for offline viewing. Some work better than others, some depend on the web browser you're using, some depend on the OS you're using, and some are just downright awesome!
So, let's take a quick look…
KeepVid.com, the One-Click Video Download Site
Probably the quickest and easiest method is to go to a web site dedicated to grabbing videos for you.
My current favorite is KeepVid.com.
All you have to do is paste a link to a YouTube video, click the Download button, and you are provided with several links for different quality videos. Click a link, the video is downloaded to your puter. What could be easier than that?!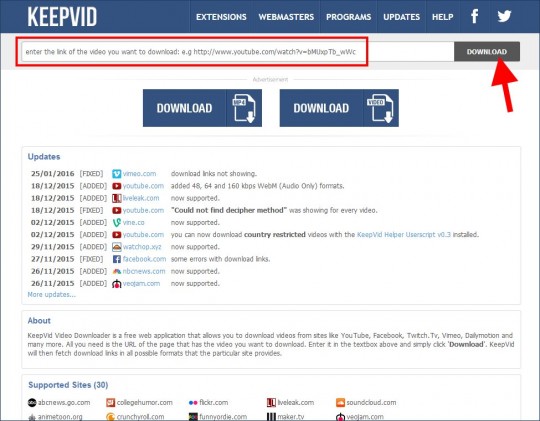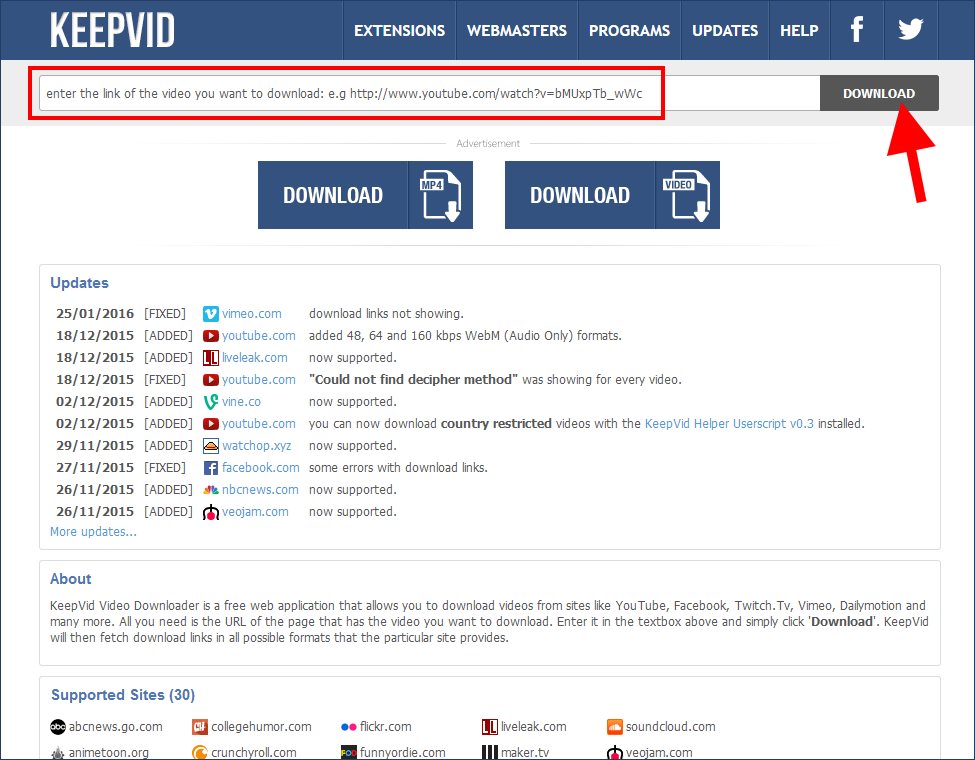 It's totally free, and it supports quite a few different major sites. For your basic video downloading needs, you probably don't need much more than this.
But…
Sometimes, KeepVid.com will give you a "streaming link" and tell you to use some other software to download this link. The streaming URI will look something like this:
rtp://somesite.com/vid/abcd:1234
mms://other.site.net/stream.asx
rtsp://server.example.org:8080/stream.sdp
So, how can you turn a video stream from a "non-supported" site into a video saved on your puter?
Well, people usually tell you to use something like VLC Media Player. Supposedly, VLC will download streaming links, but I can never quite get it to work!
Fortunately, there's an easier way…
Video DownloadHelper 5
As with KeepVid.com above, sometimes it does not "just work".
Enter Video DownloadHelper!
This browser add-on, available in both Firefox and Chrome versions, is pretty darn awesome.
Here's how it works:
Pretty easy, right?
Some key features:
When the Video DownloadHelper button in your browser lights up, just click it and download the video you want
Works with YouTube, DailyMotion, Facebook, Periscope, Vimeo, Twitch, Liveleak, Vine, UStream, Fox, Bloomberg, RAI, France 2-3, Break, Metacafe and thousands of other sites
Supports several types of streamings: HTTP, MP2T, F4F, etc.
If all else fails, Video DownloadHelper lets you play the video in your browser and capture it directly from the screen
The folks who made this one thought of everything!
It's totally free, although if you contribute some bucks, you'll get the following additional features:
Converted videos won't hold the DownloadHelper QR code (the black and white sign at the top left of converted/aggregated videos)
You will be able to convert videos directly to mp3 audio files
You will have access to support for the conversion feature
Et Voila
So, if you need to download vids from the biggest mainstream sites and you don't want a browser add-on, try KeepVid.com.
If you need to grab vids from a variety of sites really quickly and easily – no matter what – Video DownloadHelper can't be beat.
Wasn't that easy?