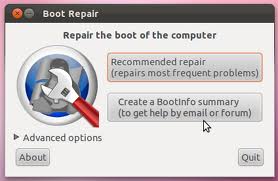 If you have a dual-boot setup on your computer involving some flavor of linux, at some point you will most likely encounter a problem with GRUB, the linux bootloader.
For example, maybe you used a tool like Paragon Hard Disk Manager Suite to resize your OS partitions. Then you tried to reboot, and you got a GRUB error message followed by the GRUB rescue prompt.
There are several ways to reinitialize GRUB, and most of them involve live CDs and mounting partitions and all kinds of other tricks that will probably make you crazy unless you're a command-line commando in linux.
Well, I don't mind the command line, but I also have better things to do.
Fortunately, there is a MUCH easier way to save the day: Boot-Repair!
There are several other tools available to help you repair GRUB, like Super GRUB(2) Disk and Rescatux.
While Super GRUB Disk will allow you to boot your OSes again, it won't really help you fix GRUB without some command-lining.
Rescatux, on the other hand, is supposed to attempt some automatic repairs for you. In my experience, it's not exactly user-friendly, and it simply didn't work when I tried to repair GRUB on an Ubuntu 11.10 / Windows 7 dual-boot setup.
Enter Boot-Repair.
Click the link above to see what Boot-Repair is all about. Basically, you can either use Super GRUB2 Disk to boot into your linux OS, install Boot-Repair, and run it. It will automatically detect your OSes and reinitialize GRUB so that you can boot everything normally again.
OR… Even easier is to just download the Boot-Repair ISO, and burn it to a CD or make a bootable USB stick. More detailed instructions are on the Ubuntu Help: Boot-Repair page.
As you can see, once you run Boot-Repair, in most cases all you'll need to do is click the "Recommended repair" button, and Boot-Repair will do the rest.
What's REALLY nice about Boot-Repair is that it will create a paste-bin type link that you can send to their support staff if B-P fails to repair your GRUB.
No futzing with mounting partitions, and no knowledge of GRUB and linux required – you just click a button and it works.
Nice, eh?
Boot-Repair works with Windows, Mac OS, and tons of flavors of linux – not just Ubuntu.
So, if you have a dual-boot or multiple-boot setup, get a copy of Boot-Repair and keep it handy. If GRUB is ever corrupted, it will have you back up and running in no time flat!