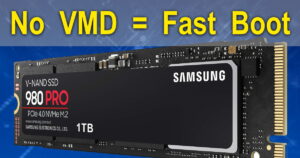 If you have an 11th generation or newer Intel processor, your system might be using Intel VMD.
VMD, or Volume Management Device, is a server-ish bit of technology where your processor more or less "hijacks" the management of NVMe disk drives in your puter.
When VMD is enabled, you MUST use Intel's RST drivers – even just to do a clean install of Windows 11.
Well, what happens if you got your puter and it's using VMD, but you want to remove it?
Easy!