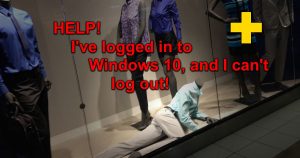 The other day, I desperately wanted to log off, and then log back in again on Windows 10. I was trying to fix something, and a reboot wasn't necessary.
Well, wouldn't you know, I couldn't find the dang "Log off" button any more?!
I also realized the "Switch users" option seemed to be missing.
This should be really obvious, but I'm afraid it isn't.
Well, fear not, fine people! Both options are still there…