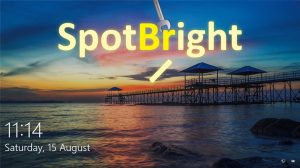 There's a cool new feature in Windows 10 called Spotlight. Unfortunately, it doesn't work much of the time.
Spotlight is an option for your Lock Screen where Windows will download new wallpapers in the background, and then show you a different purty image each time you go to unlock your puter.
It's a very nifty feature, especially since the images are very nice.
But as I said, it doesn't work at all much of the time.
Fortunately, there are two different ways you can fix this problem – without even needing Spotlight to work correctly!