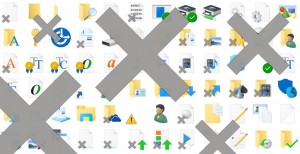 There you are, minding your own business, when suddenly you realize that all the shortcut icons on your desktop have changed somehow…
You look closely, and finally you realize that all the little "shortcut arrows" that indicate an icon is a shortcut have been replaced (magically, of course) by a grey "X".
Sometimes, it's not a grey X, but another weird symbol.
In any case, this problem is really annoying, and you'd like to fix it.
What to do?