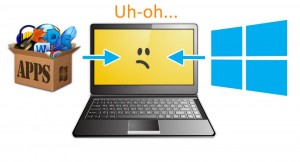 You know the drill.
Your puter crashes, or you want to reinstall Windows, or you upgrade to a new version and do a clean install…
You can restore your data easily enough from a variety of backup methods, including Windows' own Backup and Restore feature.
But then comes the fun part: Reinstalling all of your applications, one at a time.
It's tedious, slow, time-consuming, and generally kind of annoying.
There's a better way: Ninite.