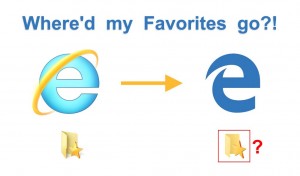 If you used Internet Explorer in Windows 7 or 8, all your bookmarks were saved in your Favorites folder.
After the upgrade to Windows 10, you may discover that in the new version of IE, called Microsoft Edge, your favorites are missing!
You'd think the import of your bookmarks/favorites would happen automatically during the Windows 10 upgrade, but alas…
Not to worry though, because it's a piece of cake to restore all of your missing Favorites!