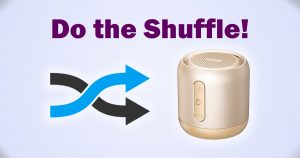 Bluetooth speakers are pretty popular these days. Unfortunately, I don't carry a smartphone around with me.
That means my "wireless speaker" is actually an Anker SoundCube Mini – complete with microSD card for storing and playing all my MP3 files. No smartphone or Bluetooth required!
There's just one problem: portable speakers like the SoundCube Mini don't have a shuffle mode. They just read the music files off the SD card, and play them in order.
That means I have to shuffle the files myself, which is easier said than done… Until now!