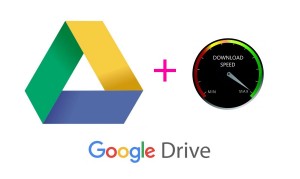 If you've ever tried to download large files from Google Drive via the web download method, you may have noticed that the downloads go really, really slowly.
Typically, I'm seeing download speeds between 300kB/s and 500kB/s. And usually, I'm seeing Drive download speeds on the lower end of that range…
Now, I don't have fiber or anything, but I started to wonder what's going on because 300kB/s is pretty pokey these days!
Thankfully, there is a really simple way to download from Google Drive at much faster speeds.