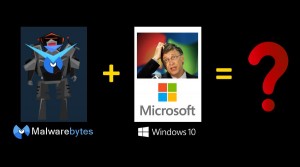 For those of you who are test-driving the Windows 10 Technical Preview, you may have noticed that Malwarebytes Anti-Malware stopped working.
It won't launch at start-up, and if you try to manually run it, you get some weird error about some memory location, blah-blah-blah, or something similar. Basically, it craps out on you.
If you try to uninstall Malwarebytes, you get the same error. If you try to install the same version – or even a newer version – you still get the same error.
Well, Malwarebytes released a newer version recently that is being sent out to users at the moment, and it addresses this problem. But autoupdating won't work if MBAM won't run!
So, how do you fix it?