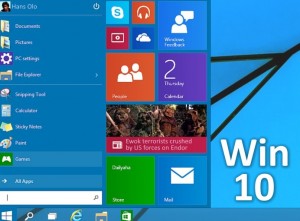 If you've been anxiously awaiting Windows 9, you're in for a long wait. But Windows 10 will be coming next year!
You see, the official explanation is apparently that, "7 8 9″ – 7 ate 9 – so Microsoft will be going straight to Windows 10. Isn't that cute? No, because Windows 8 still sucks.
Furthermore, instead of releasing Windows 10 in April 2015, we now apparently have to wait until the end of next year. Because, ya know, taking Windows 8 and making it not suck takes way, way longer than making that much-hated "Start Screen" in Windows 8.x.
You may recall me ranting about why I left Win 8 and switched back to Windows 7.
So, the question on everybody's mind is: Will the next version of Windows fix everything wrong with Windows 8?