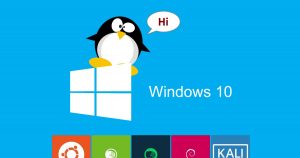 In the olden days, there was only "Bash on Ubuntu on Windows 10". This little gem gave you something like reverse WINE.
You got an Ubuntu linux install that's running on top of the Windows kernel – with full file system access, the ability to install and run all kinds of linux command-prompty stuff like git, and even graphical linux apps like gitk.
Fast forward a few years, and things have changed…
What if you're still running Bash on Ubuntu on Windows (Ubuntu 14.04) and you want to upgrade to the latest Ubuntu 16.04 without reinstalling everything?
Or, what if you want a different flavor of linux?