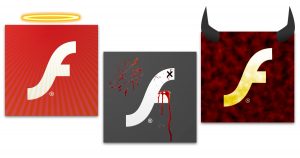 By now, you've probably heard that Adobe's Flash Player is going the way of the dinosaur. Except, wait… No, it's not. It's still around, and it still works.
No, wait… Yeah, it's dead. No it's not. Yes it is.
You could be forgiven if, like most of us, you're really, really confused about what's happening with the Flash Player.
Okay, so, seriously: WHAT THE HECK is going on with Flash?
Is it alive? Is it dead? Is it a zombie?!