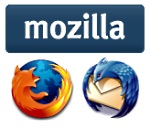 I use Mozilla's Thunderbird e-mail client, and their Firefox web browser. Every now and then, I would need to transfer all my settings from one computer to another, or from one OS install to another. Recently, I was once again faced with this little problem.
In Thunderbird, I used to copy the Mail folder over, the prefs.js file, and some other odds and ends – but that meant I had to reinstall all my extensions and everything. The same was true for Firefox – minus the Mail folder.
So, the other day, I finally figured out how to transfer ALL the settings over in one ridiculously, stupidly easy step. Why I was unable to find any information about this on the web before is beyond me. Everything I've found says to copy files from inside your profile directory as I have been doing, which is entirely unnecessary.
Read on to see how to do it…